New Generation Grow Room HVAC System
Sufficient Hvac for Perfect Grow Conditions
Well Deal with Bud Rot and Powdery Mildew
Product compliance to North American Safety Standards. ETL Listed Mark by Intertek
Quality Management Systems Ensuring global buyers Standardization, Safety, and Durability
Focus on HVAC refrigeration systems for grow rooms, deep in dehumidification and ventilation
Altaqua HVACD
Built for Large-scale Commercial Grow Rooms
Providing Heating, Ventilation, Air Conditioning Dehumidifying. All-in-One HVAC system solves the complex commercial grow room environment control challenges. It will lead to exceeding yield expectations by up to 50%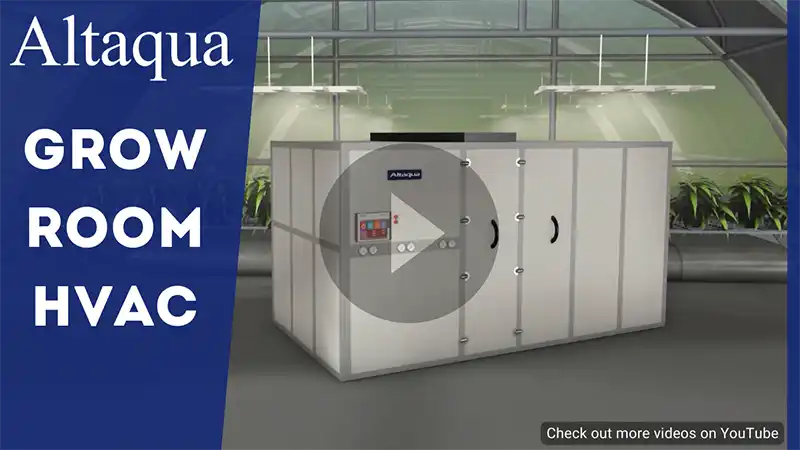 Keep Targeted VPD for Plants Grow
Altaqua HVACD system is especially designed for plants growing considering the temperature and humidity demands at different stages. Current VPD and target VPD are shown on Siemens PLC control panels, and growers can set the combination of humidity and temperature to adjust it.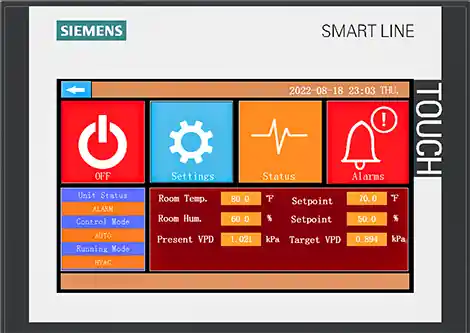 Altaqua HVACD
Altaqua HVACD system, also called Grow Room HVAC system, offers a wide capacity from 6 to 65 Tons. It maintains the target humidity and temperature by dehumidifying, air conditioning, and heating year-round. Besides that, some more useful growing control functions are also for choices.
Air Dehumidifying
Air Conditioning
Air Heating
Fresh Air Ventilation (Option)
CO₂ Control (Option)
Air Sterilization Light Control (Option)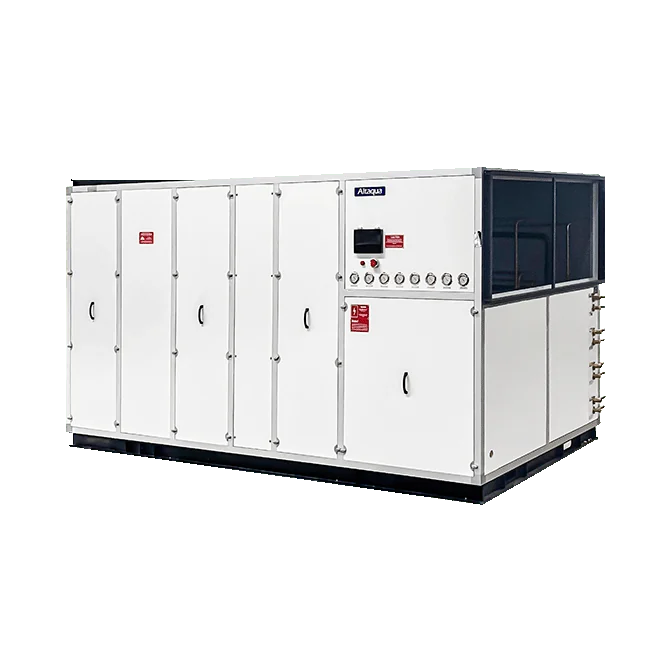 Altaqua
Remote Control Technology
24x7 Real-Time Internet Monitoring and Wifi Control
YOU COULD ACCESS AND CONTROL VIA
It is specifically designed for grow room monitoring to maximize the performance, value, and reliability of the HVACD we make.
✓ Provide a lifetime of Internet monitoring, remote control, and remote data recording
✓ All you have to do is connect it to the Internet with WIFI
✓ Real-time Internet monitoring and control of system parameters and modes
✓ Help protect your plants against issues before arising by delivering trouble alarms
✓ Deliver a better end-user experience using with Website and App monitoring
✓ Enhance performance by monitoring key metrics
Stand-Alone Grow Room Dehumidifier
Reliable Humidity Solution for Grow Rooms
Ideal stand-alone dehumidifier with Industrial-grade dehumidifying capacity.
Easy Control create happy and efficient growing environment for your crops.
Protects the healthy growth of crops and keeps them away from pests and diseases.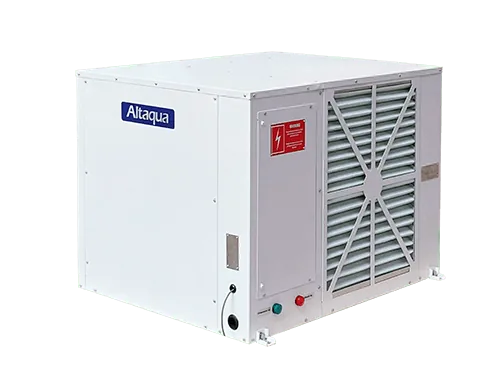 Air-Cooled Condenser Unit
Efficient Heat Rejection Solution For Grow Rooms
Industry-leading air-cooled condenser unit delivers heat rejection performance. The units we make are equipped with high-efficiency coils to satisfy high-quality air conditioning. It dynamically transfers heat loads outdoor, and delivers exceptionally stable grow room conditions. The smooth finish cabinet is made of a pre-painted galvanized metal sheet.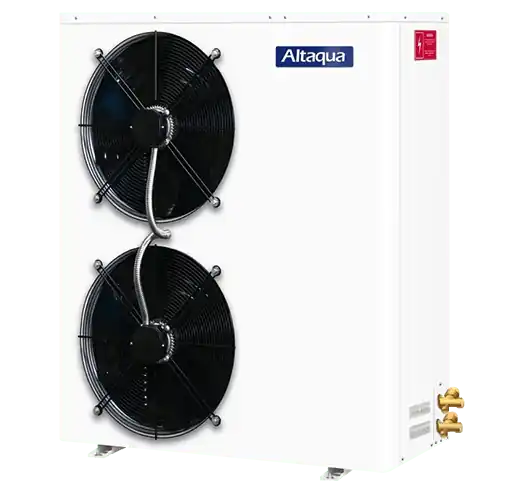 ETL Certification
Top Quality Assured, by Intertek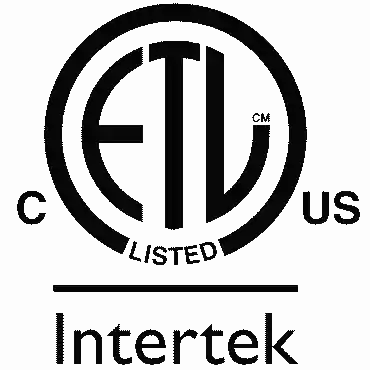 Altaqua Products pass the strict test and acquired the certificate from Intertek. Top Quality Assured. The ETL Mark is proof of product compliance with North American safety standards. Authorities Having Jurisdiction(AHJs) and code officials across the US and Canada accept the ETL Listed Mark as proof of product compliance to published industry standards.
ISO 9001:2015
Quality Management System
15 Years Refrigeration Factory Dedicated To HVAC
ISO is the short name for International Organization for Standardization. Some of ISO's best-known standards there's the ISO 9000 family, and ISO 9001 is the most popular standard in this family and the only standard in the series to which organizations can certify.
ISO 9001 is defined as the international standard that specifies requirements for a quality management system (QMS).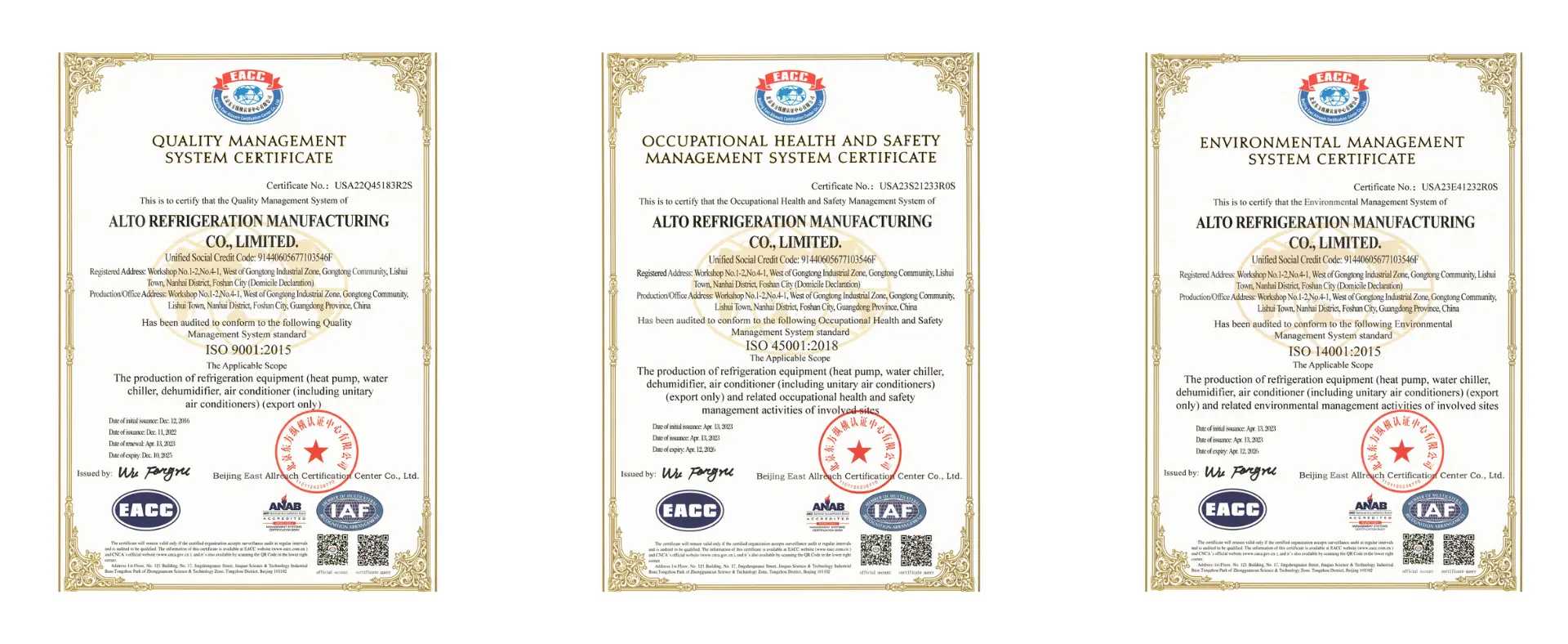 Altaqua acquires and implements ISO 9001:2015 Quality Management System completely in Production. With this standard, we improve the quality of products and services and consistently meet our customers' expectations.
Dun & Bradstreet Certificate
Credibility, Stability and Business Growth Opportunities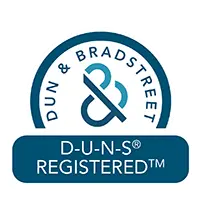 Dun & Bradstreet is a global company headquartered in New Jersey, United States. It is a well-known business information and credit reporting agency. One of their products is the Dun & Bradstreet Certificate, which indicates a business's creditworthiness and financial stability and proves a company establishes a reputation as a reliable and financially stable business. Altaqua acquires this certificate; it can benefit and help our customers and partners lead to business growth and expansion. Click the mark to learn more about Altaqua company profile.
Our Suppliers
International Prestigious Brands You can Trust
Our Production
Infuse Quality in Company Culture
ISO9001:2015 Quality Management System
Lean Manufacturing focus on Eliminating Waste
Quality Test
Essential, Crucial, and Thorough
✓ All Parts and Components Tested before Assembly
✓ Products Tested to Check Performance in the Real World

✓ Leakage Test, Electric Safety Test, Operation Test, Protection Test and more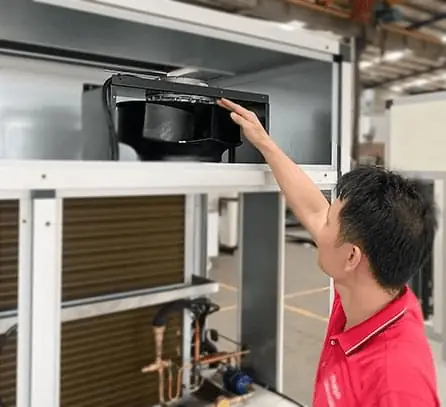 Our References
Feedbacks from Our Clients
" You don't get me wrong. Your machine is very well built and everyone is impressed with the quality. I showed your machine to some growers and they like it."
" I make the installation of the unit, and it works well. I am happy to show my clients. I will consider to be your distributor"
" We're happy with the quality of your design and workmanship, these have a good finish on them."
" We were very satisfied with the performance of the machine we purchased from your company."
Our Team
20 years HVAC experienced manager cover the whole process
Manufacturing designer team keeps up to date with new technologies
Material specialists and supply chain specialists audit, check and choose the best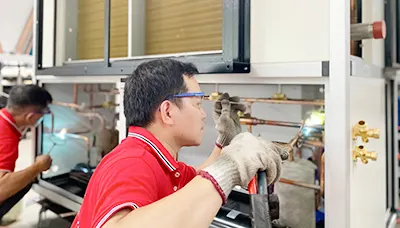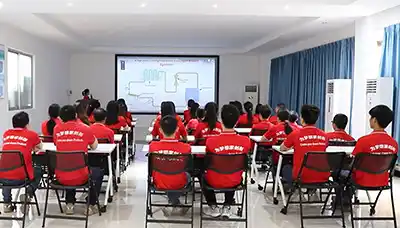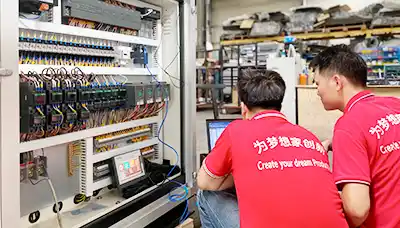 Frequently Asked Questions
Check out our FAQs to see if we've already answered your questions. If not, please contact us!
See FAQs
Downloads Section
Click below to check out our product catalogue and grow book.
Free Downloads
Price Section
Click below to get your free customized proposal.Please feel free to contact us!
Get A Quote
Get Started
1. Free Proposal of HVACD for your Project
2. Call Conference with an HVAC Engineers Team
3. Technical & Parts Support during Whole Machine Life