2023 Grow Room HVAC Checklist
Efficient grow room environments are crucial for this expansion. Optimal growing conditions maximize yield and ensure high-quality products. A reliable and efficient HVAC system is vital for maintaining ideal conditions for cannabis plants.
But how do you know which brand is good for you? Here is an introduction to top grow room HVAC system brands you can trust. We provide summaries and links to their websites, making it easy to decide.
These companies offer exceptional products and services for cannabis cultivators. They have been selected based on their reputation, innovation, and commitment to quality and energy efficiency.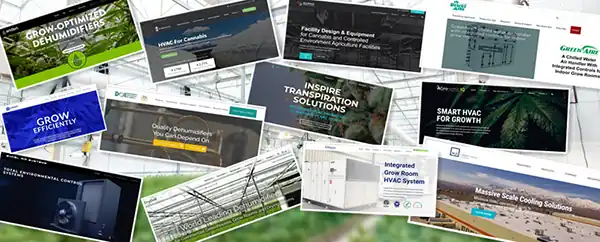 Choose Top Band for Your Cannabis Grow Room HVAC
Some brands you may hear of alreadBy, such as Desert-Air, Quest, Anden, and Drygair. More and more brands have begun promoting cannabis grow room HVAC and grow dehumidifiers for the cannabis industry. In this article, we list more reliable brands for you to learn about.

Desert Aire Corp. is a Milwaukee-based manufacturer of commercial and industrial humidity and climate control systems. As a recognized leader in the dehumidification industry, Desert Aire is well known for its pool dehumidification system. Nowadays, they develop new series, including GrowAire™, DriCure™, and GreenAire™ systems, which all are used as grow room HVAC.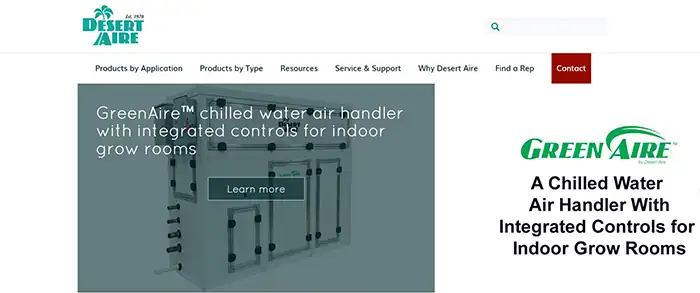 Quest that we are familiar with now called Agronomic IQ, they dedicated to developing water-cooled type dehumidification systems with wall-compressor design for grow rooms. The models they provide come in a wide range of sizes and options. They also still offer standalone dehumidifiers with Quest brand for efficient humidity solutions.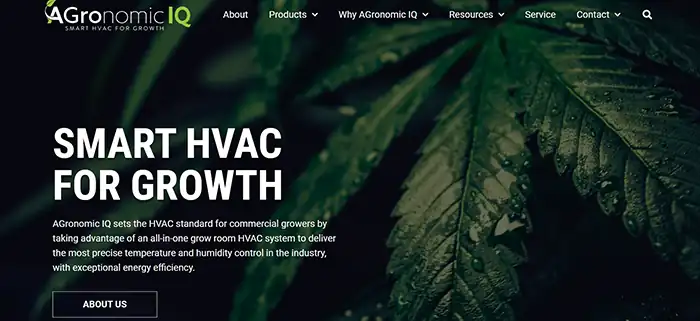 DCA is also famous for its pool dehumidifier for years. Now they offer various designs and configurations of dehumidification systems to suit grow rooms of all sizes.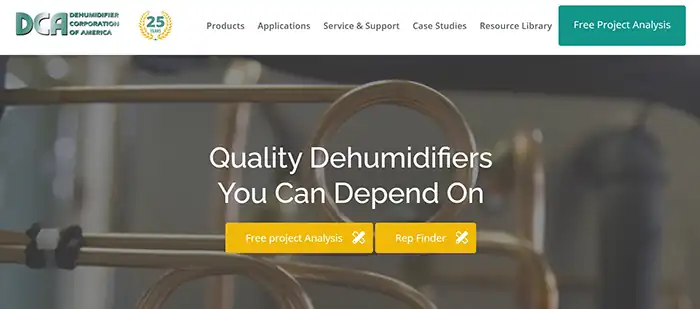 Altaqua focuses on cannabis grow room HVAC for commercial grow rooms with affordable and economical solutions. Altaqua grow room hvac, with integrated temperature and humidity control for all-weather use, dedicates to helping growers solve bud rot, powdery mildew, and those problems caused by high humidity and improve plants' quality and yield.
At capacities up to 710 pints/day, Anden mainly provides handy grow dehumidifiers with single dehumidifying, built for cultivation with commercial-grade environment controls.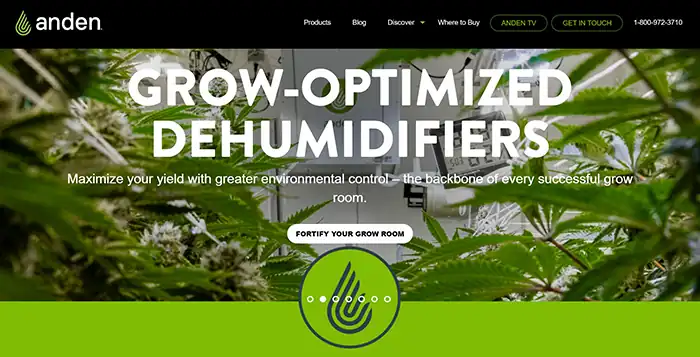 The dehumidifiers DryGair designs have optimal performance for greenhouse and grow room conditions. Similar to Anden, DryGair dehumidifiers are for dehumidifying with heating.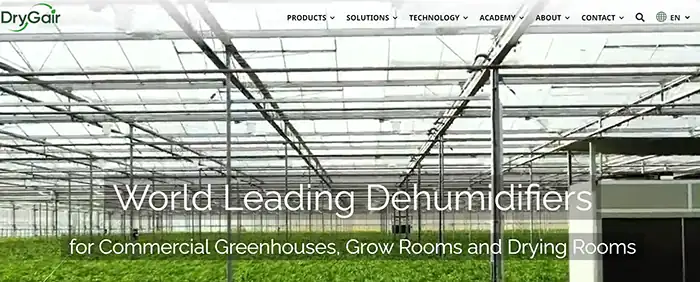 If growers prefer air conditioning as the primary function, InSpire's vertical greenhouse HVAC unit is a choice. Its featured product is packaged rooftop units, which work as freestanding units on the roof or ceiling.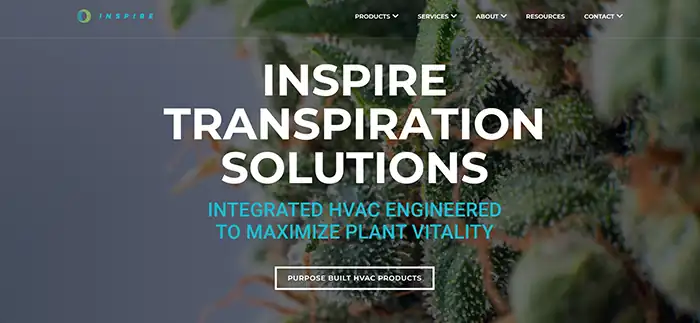 Air2O pioneered in providing evaporative cooling and air conditioning systems for large-scale facilities, such as Data Centers, Industry, and Agriculture Facilities.

Surna provides technology solutions and works with Aden grow room dehumidifier to allow growers to control environments. Other HVAC equipment includes chillers, air handlers, fan coils, and VRF for air conditioning.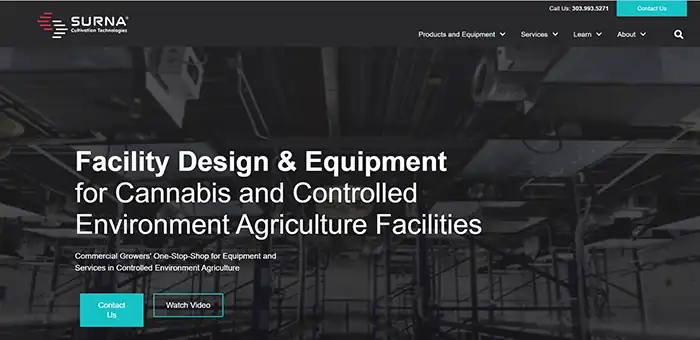 Harvest provides energy, process, HVAC and power systems, and the Harvest Air packaged cooling and dehumidification systems are exclusively built for handling specialized indoor cannabis growth environments.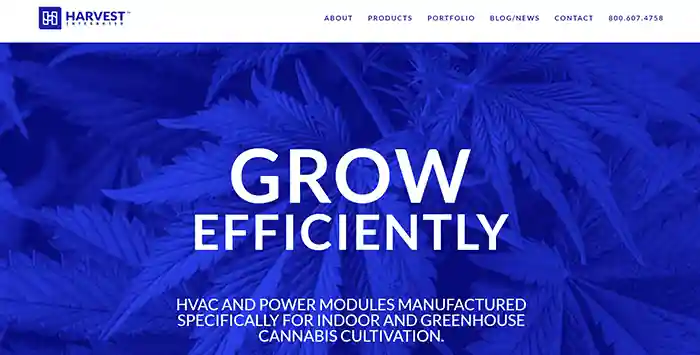 Excel Air Systems designs and manufactures environmental control systems specifically for sealed room applications.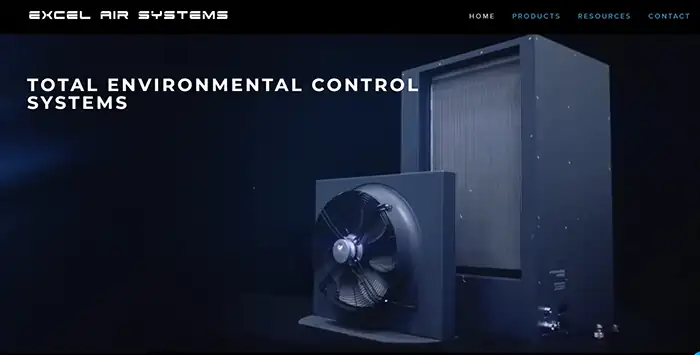 For over 15 years, Subcooled Air has specialized in refrigerated dehumidification for greenhouses and grow rooms. Their expertly designed cooling systems cater to the needs of discerning customers, ensuring top-quality climate control.
Cultiva Systems offers specialized HVAC equipment for indoor agriculture, catering to diverse growing needs through state-of-the-art, flexible solutions worldwide. In addition, their expertise in horticultural applications sets them apart in the industry.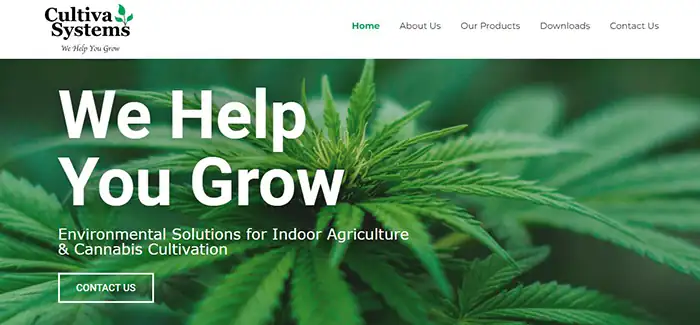 ZeroCool Systems, backed by 50 years of climate control expertise, offers specialized equipment for the cannabis market. As a division of family-owned RAE Corporation, they focus on innovative heating, cooling, and refrigeration solutions.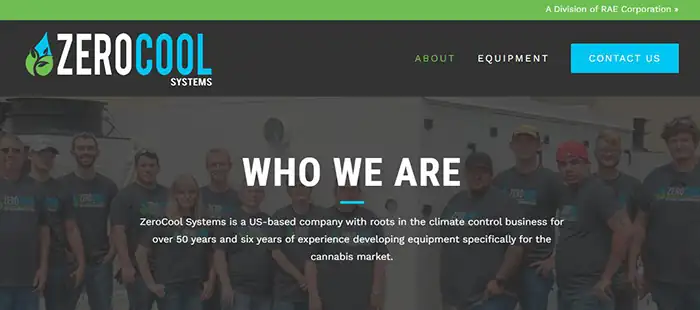 EasyRoots offers cost-saving grow room HVAC systems that eliminate unnecessary construction costs and provide immediate payback through utility efficiency rebates and tax credits.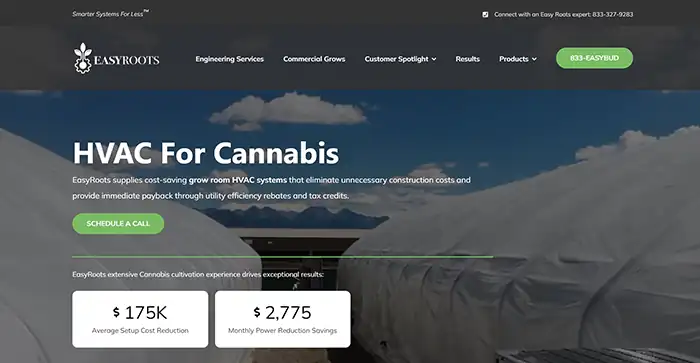 Conclusion
If you invest in indoor plant growing, choose an HVAC system to help you maximize quality and yields. An ideal grow room HVAC can supply airflow for proper ventilation and maintain specific temperature and precise humidity levels.

In short, it can adjust and maintain both humidity and temperature. All while distributing the right amount of air for the best and healthiest plants.

Drop us a line to learn more about humidity and temperature control for your grow room. Our engineers will get back to you shortly.

Popular Blogs on Altaqua: