Libro de cultivo
Must Read
Technology creates quality & profit
Study more, grow much better
Cannabis Grow book FREE
One professional cannabis grow book is very useful for growers and people who want to invest in cannabis growing.
More and more growers are involved in this farming business, which is a young but massively expanding industry.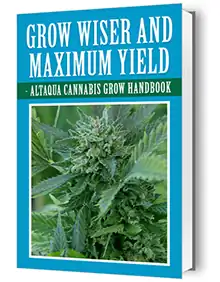 And the new growers typically choose to invest in grow room, grow warehouse, and greenhouse to maximize the yields by the whole year operation.
So professional growing technology is very important to guarantee stable growth yields. Altaqua's engineers have partnered with an agronomist to provide this grow book in a pdf file.
Fundamental Information In Cannabis Grow Book
This cannabis grow book is for new growers, providing grow history, rules, growing tips, tricks, grow room equipment, and so on. Summarized, you will get the following fundamental information:
Indoor growing and outdoor growing
Cannabis grow room design
Odor control
Disease and pest control
Understanding cannabis cultivation
Problems in cultivation and solutions
Harvesting, washing, pruning, drying, curing, and storage
You will also get more beneficial information, including:
Legalization process of growing
Apply for a license for legal cultivation
Scale expansion and economic growth
Let your crops grow strong and fast
Increasing indoor crops yield
Boost Your Skills from Cannabis Grow Book
Get your copy now. It's time for you to know and understand more. So fill in the following form to get our free grow books to learn more growing information, and head for maximum growth yield.
Or want to speak with a human at once? Contact our team at [email protected] or at (+86)13809220755 for information relating to cannabis growing, custom-integrated grow room hvac products, and focusing on your requirement.